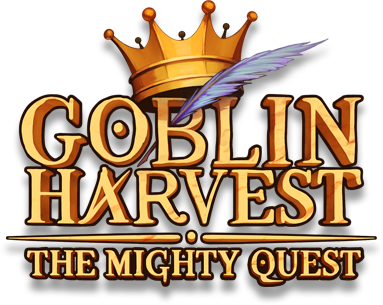 Goblin Harvest - The Mighty Quest
A downloadable game for Windows
While the war rages to hold back a Goblin invasion, the King's Champion must embark on a desperate quest to save the kingdom.
Goblin Harvest - The Mighty Quest is a procedurally-generated Strategy RPG. It's like playing a board game and a "choose your own adventure" at the same time, where the two parts of the game connect and intertwine in a variety of exciting and intriguing ways.
Because it's procedurally generated, the game's designed to be played multiple times. Adjustable difficulty settings vary the challenge.
Features
Turn-based strategy, post-modern text adventuring, Goblin hordes, procedural randomness, board game mechanics, RPG progression, mortal combat, magic spells, NPCs, exploration, fortifications, camp fires, foraging, mining, tall tales, Elf and Dwarf Armies, a Goblin kitchen, horse riding, day & night, huge swords, seasons, hostile beds of nettles, deck-building, music and birdsong, magic mirrors, fishing, monster lairs, weather events, lost towns, Goblin Harvests, high scores, multiple difficulty levels, 2 player co-op, tutorial, designed for replayability
Where to buy
Steam (Windows): http://store.steampowered.com/app/604060

Apple App Store (iPad): https://itunes.apple.com/us/app/goblin-harvest-the-mighty-quest/id967618164
Videos
Trailer
Quick Start Tutorial
Social

Credits

Game design and programming by Ian Williams
Artwork by Janette Ramos
Music by Ian Williams and Jack Williams
Install instructions
The installation might also add OpenAl32.dll to your computer. This is a harmless library from Creative Labs that the game requires for audio. For more info, see https://en.wikipedia.org/wiki/OpenAL.
Download
Download
Goblin Harvest TRIAL v1.5.0
197 MB